THIS EVENT HAS NOW BEEN POSTPONED TO FEBRUARY 2024 – PEOPLE WITH TICKET SWILL BE NOTIFIED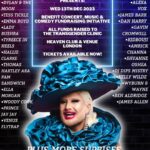 Live Your Truth is a benefit concert,
Being held on Wednesday 13th December 2023, at the iconic Heaven London.
Staring Ru Paul's Drag Race Winner Danny Beard,
Indie recording star Dylan and the Moon,
along with an array of Star Performers from the LGBTQIA world.
This event is being organised by Jaxon Feeley, (Trans Activist and Media Personality) and Martin Clowes, (Martin Clowes Global Entertainment).
Both individuals are heavily involved in raising awareness around the issues that Transgender people face in today's society.
The Live Your Truth, The Concert is being held with an aim to raise funds for
The Transgender Clinic,
https://www.transgenderclinic.co.uk/
But also to raise awareness on a large scale. the treatment of the transgender community on a day to day basis.
"By bringing together some of the biggest names in entertainment, we hope to unite a community, provide hope and strength, and provide a space to feel accepted, loved and safe whilst enjoying a fabulous Christmas party." – Jaxon
The evening will include performances from some of your most loved artists along with others you will be so happy to meet!