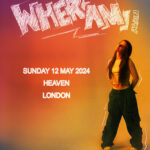 At just 19-years-old, Natalie Jane has the kind of powerhouse voice that makes the most
intimate emotions feel larger-than-life. As shown on past hits like "AVA"—one of her first singles
since signing with 10K Projects/Capitol Records—the New Jersey-raised, Los Angeles-based
singer/songwriter matches her massive vocal talents with soulful sensitivity and unapologetic
attitude, a dynamic she's embodied since self-releasing her own music in high school. That's
particularly true of "I'm Good," her defiant new collaboration with fellow rising star
charlieonafriday, which is shaping up to be a summer smash.
Growing up in Woodcliff Lake, Natalie Jane first discovered the phenomenal strength of her
voice as a little girl, thanks in large part to the encouragement of her family including an aunt
who's an opera singer. Along with singing in musicals and learning to play piano, she started
writing her own songs at the young age of eight. Naming big-voiced singers like Bishop Briggs
and Adele among her top inspirations, she later began heading into New York City to work with
a producer who helped to sharpen her hypnotic approach to pop music.
"All throughout high school I'd go into the city after school and spend countless hours in
sessions," she recalls. In 2021, Natalie Jane delivered her debut single "Love is the Devil"—a
slow-burning and emotionally potent track written completely on her own. Within the next few
months she made waves with independent releases like "Red Flag" and "Kind of Love," and
soon found herself balancing her school work with the demands of a fast-burgeoning music
career.
"I remember sitting in music-theory class the day I found out I got my first editorial playlist," she
says. "My teacher was frustrated with me and said, 'Natalie, could you please focus?' and I was
like, 'I really can't.'" At the start of 2022, Natalie Jane made her first trip to L.A. as her following
continued to grow exponentially. Although she gained acceptance to the prestigious Berklee
College of Music, she ultimately decided to pursue her musical ambitions—a choice that paid off
when she inked her deal with 10K Projects/Capitol Records in July.
That same month, she made her major-label debut with "Mentally Cheating," a gorgeously raw
track quickly featured on highly coveted playlists like Spotify's Pop Sauce. Almost immediately
after moving to L.A. in September, Natalie Jane released her follow-up single "Seven" (another
heavily playlisted hit) and in November returned with "AVA"—an unstoppably magnetic track that
debuted on the official single charts in four countries across the globe, in addition to landing on
seven flagship playlists and earning her four playlist covers.
"It's a song about being in a relationship and knowing your partner's talking to someone he
shouldn't be talking to," explains Natalie Jane, who created "AVA" with boundary-pushing
producers like Pink Slip (FLETCHER, Royal & the Serpent) and Doc Daniel (Bankrol Hayden,
Chloe Lilac). "In general I want my music to be something for people to put on in the car when
they're feeling upset, and need some kind of outlet to scream along to. I want every song to be
a therapy session."
On songs like "AVA," Natalie Jane shares her singular perspective on the emotional climate of
the modern world while fearlessly venting her thoughts and desires. On "I'm Good," her latest
single and rising hit, she delivers an empowering anthem about moving on from a breakup with
casual defiance. The inclusion of charlieonafriday is also representative of her collaborative
approach to music. As part of her fierce commitment to fully realizing her vision, she's made a
point of staying hands-on in all aspects of her artistry, including collaborating with her friends to
dream up the videos for tracks like "Crazy."